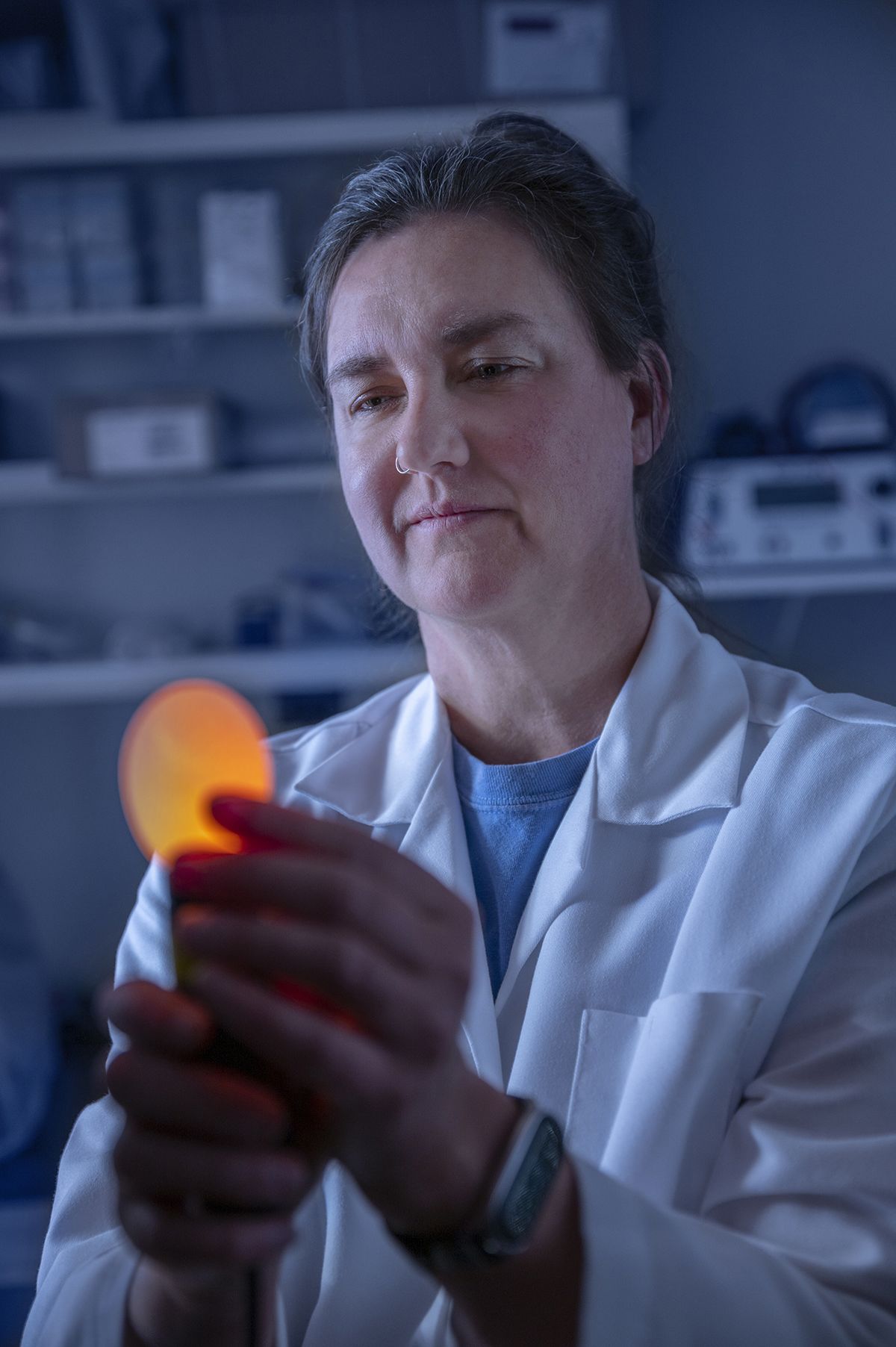 Georgia's Golden Egg
State-of-the-art Poultry Science Building will give researchers and students a high-tech new roost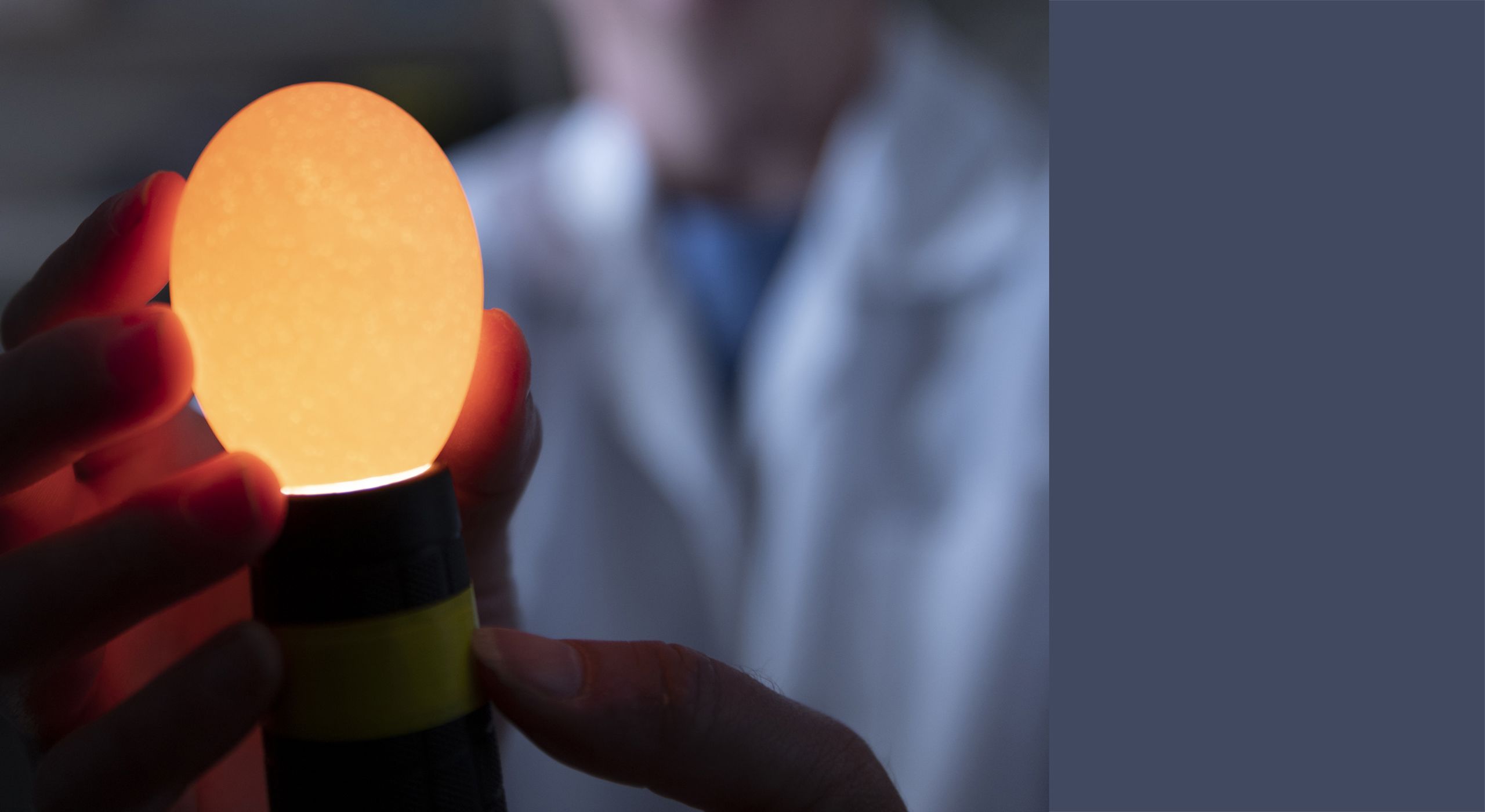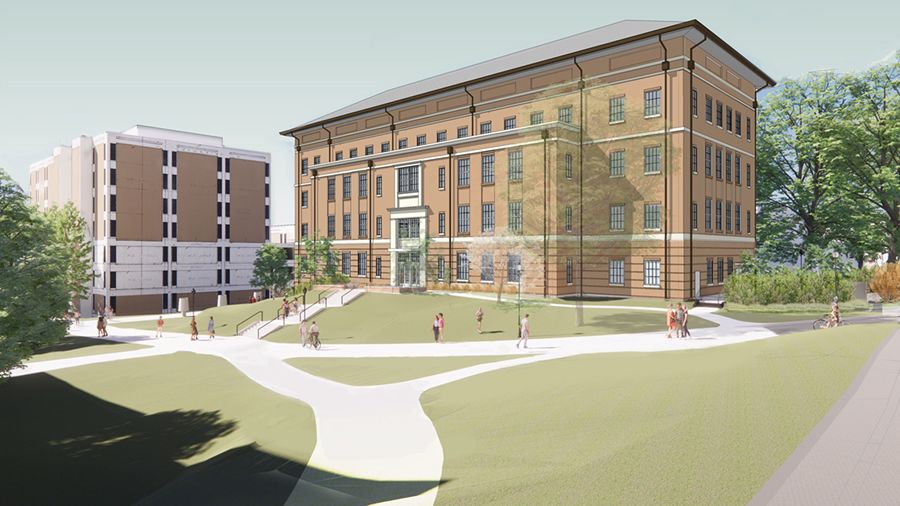 Flagship gifts to the project include:
A $3 million gift from the Luther and Susie Harrison Foundation will name the main lobby of the Poultry Science Building. This latest grant furthers prior commitments made by the Luther and Susie Harrison Foundation in appreciation for the CAES Department of Poultry Science, with the foundation having established the R. Harold Harrison Distinguished Professorship in 2017. The foundation was created in 1994 by R. Harold Harrison, founder of Harrison Poultry, Inc., in honor of his parents, to support education, faith and health initiatives in Georgia.
A $1.1 million gift from Georgia-based Wayne Farms, a subsidiary of Continental Grain Company the seventh-largest vertically integrated poultry producer in the U.S.
A $1 million gift from the R. Harold and Patsy Harrison Foundation which was the first seven-figure commitment to the building campaign. This gift was part of a $3.6 million total commitment which also established a distinguished professorship/chair for the head of the poultry science department.
In 1958, a carpenter named LC Powers built himself and his wife, Ruby Nell, a broiler house on their family's land in northeast Georgia. The chicken house could hold 10,000 chicks, but there was barely enough electricity to power a few light bulbs in the open-sided building. The feeders were built out of wood, and the chickens drank their water from an open trough.
On Nov. 15, 2021, the Powers' great-granddaughter, Kylie Bruce, a master's degree student in the Department of Poultry Science at the University of Georgia's College of Agricultural and Environmental Sciences, recounted her great-grandparents' story at the groundbreaking for a new, technologically advanced Poultry Science Building on the Athens campus.
"Our industry has improved because of research, teaching and Extension work done by UGA poultry scientists," said Bruce, who earned her bachelor's degree in poultry science in 2021. She plans to continue her family's business on the same land where her great-grandfather built that first poultry house. "As the fourth generation to live on my family's farm, I hope this new facility will bring developments that further strengthen Georgia's poultry industry so that my great-grandchildren will also get to be a part of feeding the world one day."
Slated for completion in fall 2023, the $54.1 million Poultry Science Building will be a centerpiece of the university's recruitment effort for new talent in poultry science. In addition to classroom and research facilities, new state-of-the-art learning labs will bolster traditional classroom instruction with production courses, demonstration spaces and field-learning programs.
Funded through a public-private partnership, the Poultry Science Building campaign has received $27.1 million in funding from the state of Georgia for planning, construction and equipment.
Lead gifts from Southeastern Minerals, led by President and Chairman Alec Poitevint II, a UGA alumnus and member of the Poultry Science Building Committee, kicked off the private campaign. Combined with robust support from industry, alumni and other donors, the campaign has raised approximately $9 million toward the goal of $27 million in private funding for the project, said Mary Ann Parsons, senior director of development for CAES.
"There are a number of partner opportunities available that will create the gathering areas, hands-on teaching labs and research space necessary to train the next generations of poultry science leaders," Parsons said. "Naming opportunities start at $25,000 and will help us transform the future of the poultry industry."
To learn more about the Poultry Science Building and ways to support the project, visit poultrybuilding.caes.uga.edu.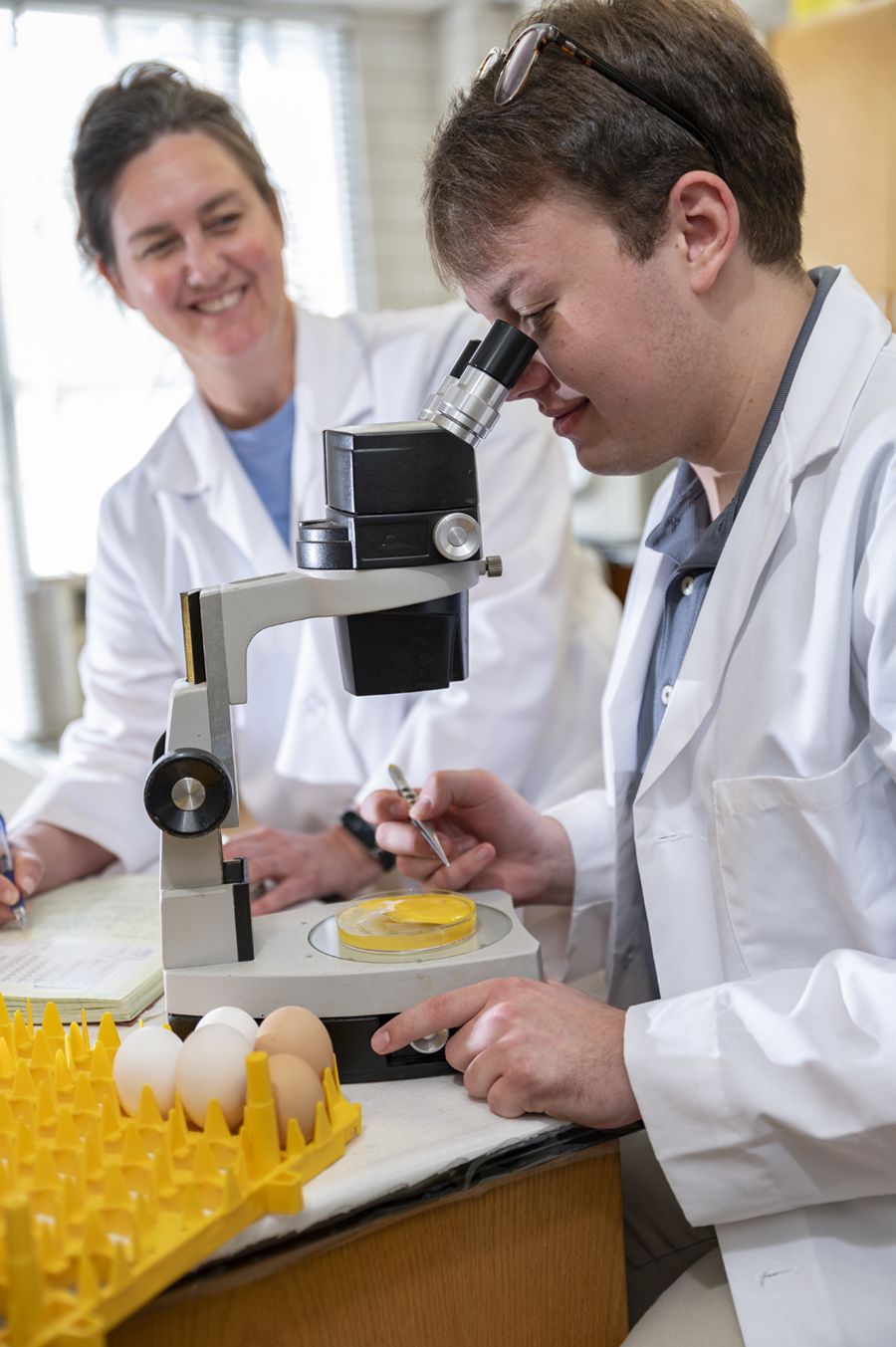 Incubating Young Talent
Third-year UGA student Grant Bennett found his flock in poultry science
By Eric Butterman
By the third year of college, many students have found their place on campus, establishing a solid roster of friends and activities.
This is the case with avian biology major Grant Bennett, but his place may differ from the average 21-year-old.
Bennett found his place working under the supervision of Assistant Professor Laura Ellestad in her lab at the University of Georgia Department of Poultry Science, studying how the tissue surrounding egg yolks helps regulate chick growth during embryonic development.
"We're looking at the yolk sac tissue in the egg as embryonic development occurs and what factors are produced there that might serve to support growth during embryogenesis before the organs that produce hormones really develop," Bennett said.
This research involves collecting tissue samples from embryos and examining gene expression for hormones, like insulin growth factor, and their receptors. "It's a great experience, and it's really interesting how the results have so far insinuated that the yolk sac tissue is playing a role in regulating growth. Now I'm looking at how this might affect the birds after hatch," he said. The hope is that the results could possibly help birds grow after emerging from the egg.
Bennett credits his experiences a the College of Agricultural and Environmental Sciences and in the lab with broadening his research skills, such as learning new lab assays, along with improving his presentation skills. "I want to get my Ph.D. and teach. This has been a huge help in improving how I share research with others," he said.
Bennett is equally active outside Ellestad's lab. He has served as the historian, treasurer and vice president of the Poultry Science Club at CAES, sharing his enthusiasm about poultry science and the poultry industry.
Ellestad was so impressed with Bennett's enthusiasm and curiosity as a student in her "Avian Surgical Techniques" class that she recruited him as a teaching assistant for the course.
"Being excited about what you are doing is important. Research can be hard and frustrating, so having that natural inquisitiveness and passion for understanding things, as well as being personable and interacting well with people of all different levels — peers, faculty, graduate students — is important to me," Ellestad said. Grade A
Faculty crack open the science of poultry
By Eric Butterman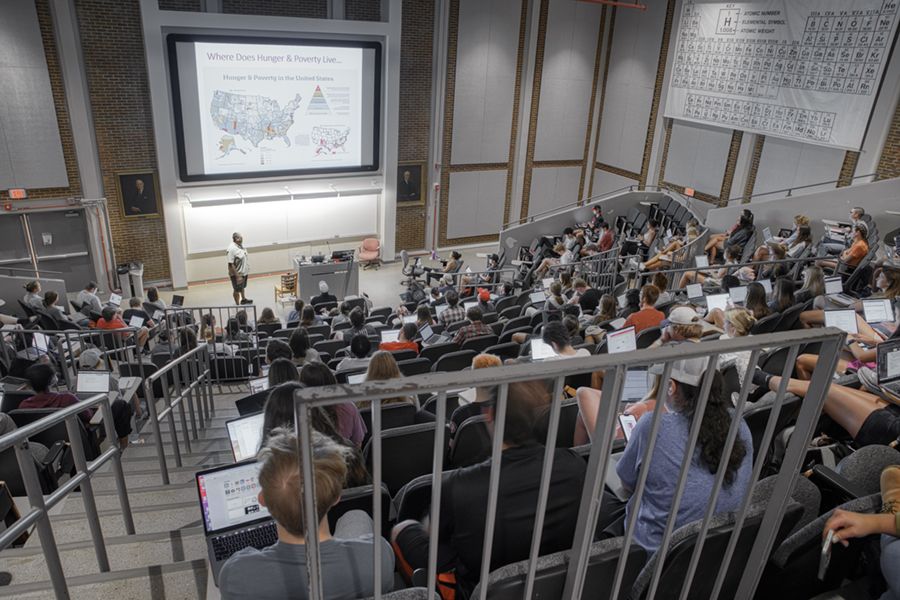 'Agriculture is everywhere'
Agriculture has an enormous effect on how our modern global society functions. The University of Georgia's "Effects of Global Agriculture on World Culture" course is a way of introducing university students to the role that agriculture plays in our daily lives today and throughout human history.
"I start with early history and go forward to the agriculture revolution 10,000 years ago — and all the way to today," said Brian Kiepper, associate professor in the CAES Department of Poultry Science. "I explain to students across campus how agriculture plays a role in everyone's life and how it allows us to do what we want, instead of spending every day finding our food."
Kiepper puts students into member group discussions partly to push them to explore their own lives as it relates to agriculture and also to spark what interests them about the topic.
Guest lecturers are a highlight, giving students a chance to learn from producers of varying experience and perspectives. The class was developed about a decade ago by former poultry science colleague Robert Beckstead. Kiepper guest lectured for Beckstead's course and began teaching it in fall 2016.
He hopes students come away with an understanding that they have choices for careers outside of agriculture because of agriculture.
"Not so long ago, there was only one job: hunter-gatherer," he said. "It's when we looked into creating a surplus of food for others that it all changed."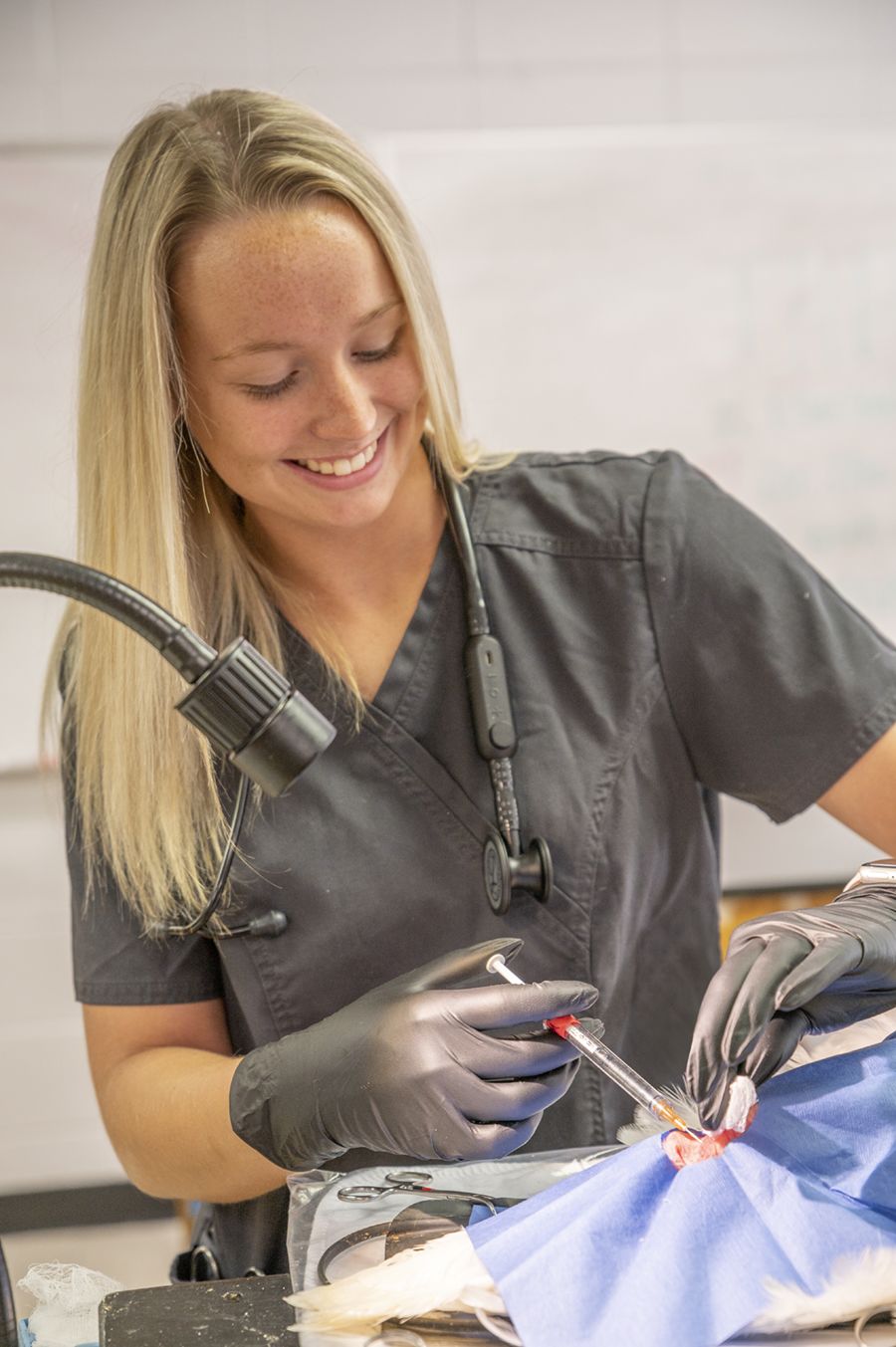 Deductive reasoning takes flight
The bird is the model species for the "Reproductive Endocrinology" course offered by UGA's Department of Poultry Science, and the curriculum touches on subjects ranging from follicular development to embryology.
Although the class focuses primarily on poultry, it also covers cows and even makes some time for humans, said Adam Davis, associate professor at CAES. "It's a chance to understand scientific cause and effects, and what the course brings up often takes students by surprise," he said. "When they hear what putting off having children until after age 30 can do to the chances for pregnancy, you can see many are surprised by the statistics. They are even more amazed to learn that advanced assisted reproductive technologies cannot simply negate these age-related deficits."
The challenging nature and format of the class makes it good preparation for future standardized tests students may take, such as the MCATs, Davis said. "We work on our deductive reasoning and analytical skills," he said, "About 80% of students are pre-vet or pre-med, and the kind of deeper thinking we do here can help them in the future when it comes to diagnosing a patient. We're going past just learning facts to true application."
Changing the course of future careers
Poultry scientist Andrew Benson is out to make his students chicken experts. An assistant professor in the Department of Poultry Science, Benson now teaches "Introductory Poultry Science," the same course that convinced him to become a poultry science major at CAES more than 20 years ago.
"This is truly a cornerstone course," said Benson, who earned his doctorate from CAES in 2006. "Poultry is a $47 billion industry in Georgia and they need all the great talent they can get. You also get as much hands-on activity here as in any course at the freshman-sophomore level. You can take that to any career, but this is our chance to introduce them to our state's largest agricultural industry."
Conducting two scientific projects in the laboratory portion of the class — one in nutrition and one in endocrinology — students author a scientific report for each experimental trial. By having students analyze documentaries and articles about poultry production, Benson aims to immerse them in the intricacies of the science, strengthening their knowledge in performing experiments and collating data.
From embryology to processing, the class covers the spectrum of poultry science topics.
"It is a privilege to help students understand the industry and the evidence-based practices that go into making it a success," Benson said. "It's multilayered, it's fascinating and it's a necessity."